Double head, automatic chamfering, can process tubes, rods, screws with all kinds of material, like steel, stainless steel, copper, brass, plastic and so on. It is a great machine making the users a lot of profit, and saving a lot of manpower.Hydraulic type with more power and can chamfer bigger rods than pneumatic type.
Description
Parameters
Application
Video
※ Canfinish internal angle, external angle and pipe end at one time.
※ Automatic clamping, automatic blades penetrating and returning, fast speed, big capacity, high efficiency, convenient operation, easy learning and understanding.
※ Thespeed of main shaft blade penetrating can be adjusted, fast speed and workspeed functions are available.
※ PLC controller with color touch screen makes the operation easier. Friendly interface will help the operator understand the machine better.
※ Inaccordance with chamfering processing of work pieces of different size, only need to change the clamp fixtures and adjust the blade bed.
※Casting machine body and the specially designed structure can make it much better in rigidity.
※Using the precision lathe guide rail, and after accurate milling and grinding, makes the depth of parallelism less than 0.01mm, so as to make sure the chamfering accuracy and workpiece end perpendicularity.
※Specially designed for short work pieces chamfering.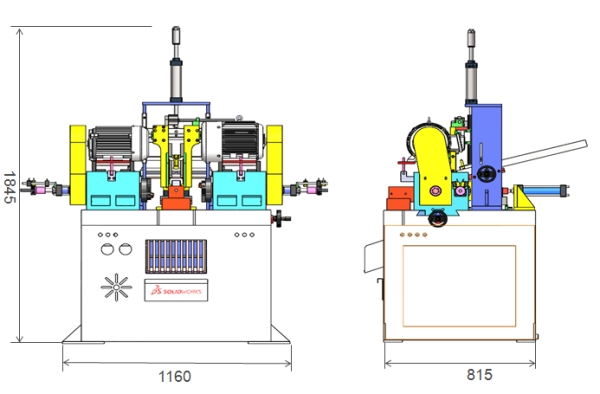 1. Chamfer head and desk plate are casting and the dual dovetail hard TRDCK structure makes the machine running rigidity and stability
2. Feed holding jaws can be replaced according to the different lengths of the working pieces. The structure is very stable.
3. The chamfering heads positions are adjusted by the hand wheel. Easy operation.